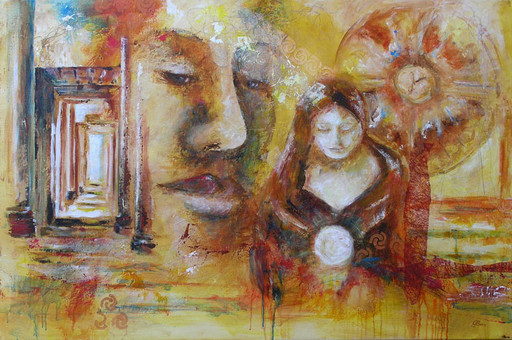 I have many inspirations, my sensitivity, path of life, inner world, meetings, journeys, colours and light.
I am very interested in Mysticism.
Again and again, I discover new methods and directions to express emotions and impressions in my work.
My work is quick-witted in powerful shades of colours. I use different kinds of techniques, for example gold leaf.
I grew up in a large family of eight children. My brothers, sisters and parents also share my artistic talents. My earliest memories of painting come from the early age of 5 at school! Luckily I still have some of those early work of art. I have always been visually orientated.
I love to draw, paint and am a keen photographer.
At the age of 16 I started working with Aquarelle, inspired by the artist Don Hughes. Since the beginning of the early 90's I trew myself into painting. At first I was inspired by watercolour, and a few years later I started using acrylic then combining techniques.
I completed a three year 'life drawing' course, both drawing and painting the models. The course had an emphasis on portraying emotions and facial expressions.
Mostly I paint from intuition, for example after meditating and listening to beautiful music. Other times I am inspired by an experience, a journey of a meeting. This helps me whilst building my compositions, with power and expression.